Wayne Dalton 300 Series
Wayne Dalton's 300 series wood garage doors accent your home with the beauty and richness of a wood door. These classic doors – which can have the same rich detailing of fine cabinetry – are designed and crafted to meet your highest expectations.Wood garage doors provide a touch of the woodworker's art to your home. We have combined precision construction methods with today's technology in creating an exceptional high quality wood garage door. All of the wood garage doors in the 300 Series have mortise and tenon joints, waterproof glued and steel pinned, provide lasting strength. Shiplap style connections between sections create a weathertight fit, and assist smooth operation along with rust-resistant, hot-dipped galvanized steel tracks and hardware.
All Models:
-Each section is constructed of 1 3/8″ thick solid wood rails and stiles.
-Raised panels are 11/16″ thick solid wood and locked into place.
-A variety of carved designs for raised panels are optional.
Description
Panel Designs:
4-2                                        4-3                                   4-4                             4-6                        5-2                                   5-3            
5-6
Double Garage Door Panels
4-4                                                                            4-6                                                                4-8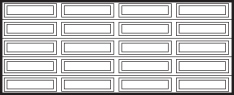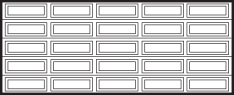 4-10                                                                        5-4                                                                  5-5
5-10
Materials:

Hemlock                        Cedar*
*Not available primed
Windows:
Cathedral                         Stocktorn                       Sunray
Warranty
Wayne Dalton offers a Limited Warranty on this garage door. Please reference the warranty document for details.
Download a Brochure: